Come and create some of the most significant dining experiences in Helsinki!
An apprenticeship is a two-year fixed-term employment contract during which you study and work for us to complete the vocational qualification in restaurant and catering services, specialising in food services. The apprenticeship will equip you well to work in various kitchen environments. We operate in Helsinki's schools, daycare centres, hospitals and senior centres as well as their lunch restaurants.
You will get acquainted with and participate in the daily activities of the kitchen, such as the preparation and presentation of salads, side dishes and food, dishwashing, cleaning and self-monitoring.
For whom is apprenticeship training intended?
Apprenticeship training is carried out with the City of Helsinki's employment appropriations, so the person selected for the training must be a Helsinki resident entitled to pay subsidy granted by the TE Office. Before starting work, the person must submit an approved pre-employment health examination statement and a criminal record extract.
We would also like our apprenticeship students to be committed to their studies and have basic I skills, good health and readiness to do physical work and at least satisfactory Finnish language skills. Previous experience in kitchen services and a hygiene passport will be considered an asset.
Application
We seek apprenticeship students twice a year, in the spring and autumn.
Career story – becoming a cook through apprenticeship
Every year, the Palvelukeskus Helsinki employs several new employees with pay subsidy for an apprenticeship, during which the employee studies and works for us to complete the vocational qualification in restaurant and catering services. One of the professionals who joined us through the apprenticeship path is Sanna Pihlaja, who now works as a cook at Pukinmäenkaari Comprehensive School.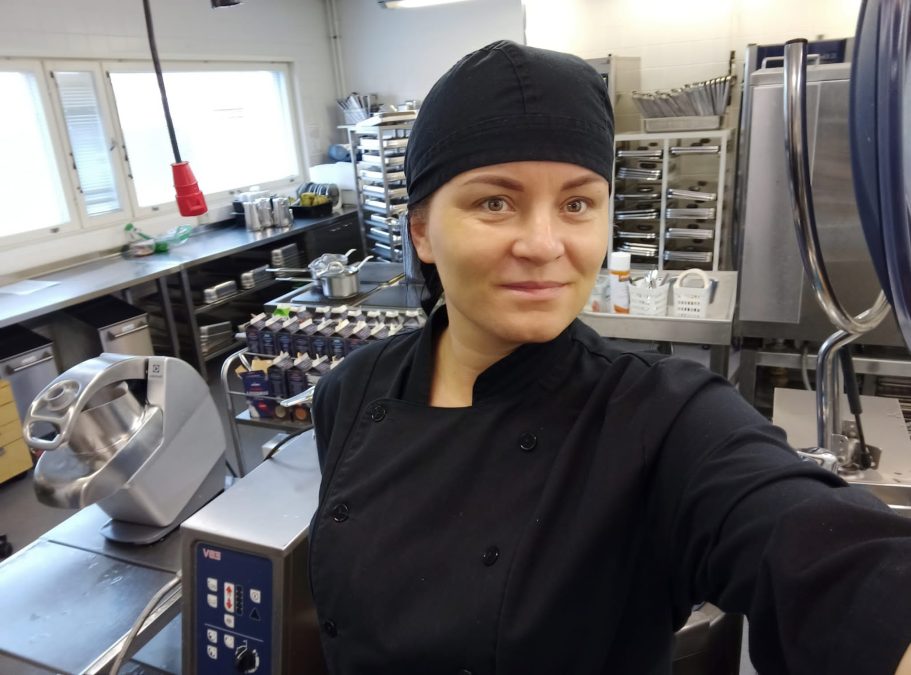 Sanna, how did you end up applying for apprenticeship training with us and what interested you in food services?
"I explored the TE Office website and found recruitment training for kitchen and cleaning services organised by the Palvelukeskus Helsinki. I applied for it and was accepted. I have always enjoyed cooking, so I was excited to try out the training. The training took five months, and during that time I completed the nutrition-related part of the vocational qualification in restaurant and catering services. During the training, I became more interested in this field and decided to apply for apprenticeship training to complete the degree."
How did it feel to study with an apprenticeship?
"The apprenticeship was the best solution for me because I don't like sitting in a classroom and I think I learn best by working. Another big plus was that I also got paid for the work. I found it a bit challenging to complete study assignments at home after working days, but I managed them fine, too."
Where did you work during the apprenticeship, and how did your studies progress?
"I started working at Pukinmäenkaari Comprehensive School, and the first year was pretty much about learning many new things. After one year of training, I was ready for the first skills demonstration week, which I completed by preparing lunches. After this, I started to practise food production in an industrial kitchen. Due to the COVID-19 situation, I completed the last part of my degree, café services, at the practice café of my school, Helsinki Vocational College and Adult Institute. I eventually got my cook's qualification a few months in advance."
What do you think studying with an apprenticeship requires, and what should people take into account when they consider whether to apply for apprenticeship training?
"Studying requires determination and the willingness to learn. When considering your time management, you should take into account that you also need to do a lot of school assignments in your free time, in addition to the on-the-job learning and school days."
After the apprenticeship training, you were employed by us as a cook. What is the best thing about your job, and what motivates you?
"The best thing about my job is that every day is different and I get to serve tasty school meals. I'm motivated by satisfied customers and a desire to learn new things."